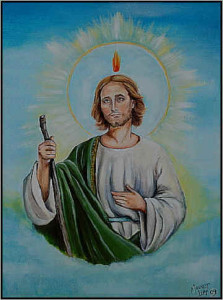 A slim finger of flame burns
from the top of his head.
The Patron Saint of Lost Causes
settles on the edge of your bed,
rearranges his robes.
The shift in the mattress
wakes you from your sleep
in a room that smells of paint
and cardboard packing boxes.
For a moment, it's no room
you've ever even seen before
and the Patron Saint of Lost Causes
is a candle on a birthday cake.
He's here, he says,
to talk about your husband.