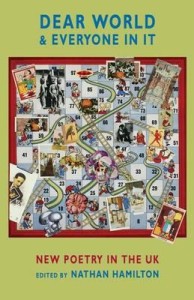 Dear World & Everyone In It is a ground-breaking new poetry anthology presenting the work of over 60 of the most talented and interesting young poets currently writing in the UK. Chosen by one of the country's leading young poetry editors, inspired by American precedents, and growing out of The Rialto's recent series of young poets features curated by Nathan Hamilton, it is the first British anthology to attempt to define a generation through a properly representative cross-section of work and a fully collaborative editorial process.
Dear World & Everyone In It is an indispensable summary or starting map for anyone wanting to explore and enjoy more of the current UK poetry landscape or seeking to better understand what's going on out there.
Featuring: Tom Warner, Rachael Allen, Andrew Bailey, Emily Berry, Ben Borek, Siddhartha Bose, Elizabeth-Jane Burnett, James Byrne, Stuart Calton, Tom Chivers, Tim Cockburn, Becky Cremin, Emily Critchley, Joe Crot, Patrick Coyle, Amy De'Ath, Laura Elliott, Stephen Emmerson, Amy Evans, Ollie Evans, S.J. Fowler, Miriam Gamble, Jim Goar, Matthew Gregory, Elizabeth Guthrie, Emily Hasler, Oli Hazzard, Colin Herd, Holly Hopkins, Sarah Howe, Tom Ironmonger, Meiron Jordan, Katharine Kilalea, Sarah Kelly, Luke Kennard, Laura Kilbride, Michael Kindellan, Agnes Lehoczky, Frances Leviston, Eireann Lorsung, Chris McCabe, Michael McKimm, Fabian Macpherson, Toby Martinez de las Rivas, mendoza, James Midgley, Marianne Morris, Camilla Nelson, Kei Miller, Tamarin Norwood, Richard Parker, Sandeep Parmar, Holly Pester, Heather Phillipson, Kate Potts, Nat Raha, Sam Riviere, Sophie Robinson, Hannah Silva, Angus Sinclair, Marcus Slease, Andy Spragg, Ben Stainton, Keston Sutherland, Jonty Tiplady, Emily Toder, Simon Turner, Jack Underwood, Ahren Warner, Rachel Warriner, James Wilkes and Steve Willey.